Crossroads and the Dominion of Four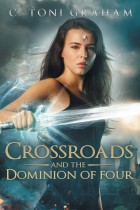 In the sequel to Crossroads and the Himalayan Crystals, this epic story follows four teens in Otherworld, battling a wicked druid, hoping to destroy all who stand in her way.
At first glance, Jake, Shayna, Seneca, and Conner seem like average teens. Maybe even like some kids you know. But they're special. They know that magic, spells, and prophecies are real.
In Crossroads and the Dominion of Four, author C. Toni Graham continues the tale introduced in Crossroads and the Himalayan Crystals. The teens have accepted their fate as defenders of the Otherworld. The realm's mythical beings have chosen sides in a deadly magical war, but it's not always clear to whom they pledge their allegiance. Jake, Shayna, Conner and Seneca must use their new magical abilities to battle treacherous creatures and face life-altering crossroads. Only a powerful druid and her loyal minions stand in their way to fulfilling their destiny of becoming the prophesized Dominion of Four.
The Crossroads series brings together creatures and humans as they fight for the common goal of returning harmony to the Otherworld and rid the realm of evil forever. Teen readers and fans of action-packed fantasy genres will enjoy this thrilling saga.